Why
should I
adopt a Greyhound?
Due to their gentle nature Greyhounds make excellent companions for the whole family. Retired racers adapt well and thrive in a home environment. They're Sweet, gentle, loving, clean, quiet, and smart – making them excellent family pets.
The Adoption Process
Find out how to adopt a Greyhound
How do I adopt a Greyhound?

The first step is to meet a Greyhound! Come to one of our scheduled events and spend time interacting with Greyhounds. Think about what kind of personality traits you would like in your hound, and what kind of dog would best fit with your family and lifestyle.  Educate yourself and read through MNGR's website, check out books like "Retired Racing Greyhounds for Dummies" by Lee Livingood, this will help you make an informed decision about whether a greyhound is the right dog for you!

Are there any adoption requirements?

Yes, we do have some requirements for adopting a Greyhound, you can find them HERE.  We also suggest that you ask yourself these questions which will help you make a decision about adopting a Greyhound.

How to choose the right Greyhound?

Fill out an Application HERE!  Then, based on our conversations with you, we'll have you meet some available hounds.  This will take place at either our kennel in Inver Grove Heights, at a hound's foster home, or at a Meet-N-Greet.  We require that all persons in the household and every current resident dog be present at this meeting.

Time for a home check!

It's time for a home visit!  One of our representatives will come to your home; no, you don't have to bake us cookies and there will be no "white-glove" test.  We are simply looking to see whether your home is realistically equipped to house a Greyhound.  We're looking for things like poisonous plants, super slippery floors, glass knick-knacks at tail height, and other things that could be hazardous to the hound.  This is also a great time for you to ask EVERY question you can think of in preparation for you new family member.  We prefer that all members of the family who will interact with your new hound be present.

Welcome Your New Baby Home!

Just remember, many Greyhounds come from a track environment so there's going to be many things that might be strange and new for them.  We recommend reading up on a process known as the "2 Week Shutdown" by Stacie Sparks, you can find it HERE.  It's a great way to let your hound begin to adjust to their new home and to start setting some ground rules.
What's Included
In the adoption fee for our dogs?
Our adoption fee is $350.  This helps us cover, but not entirely, the transportation from the track, a physical examination by a veterinarian familiar with Greyhounds, a heart worm check, all current shots and vaccinations, the spay/neuter surgery, and all care and food for the dog while in our care.
Our fee also provides for a collar, leash, muzzle, and microchipping for when your dog comes home.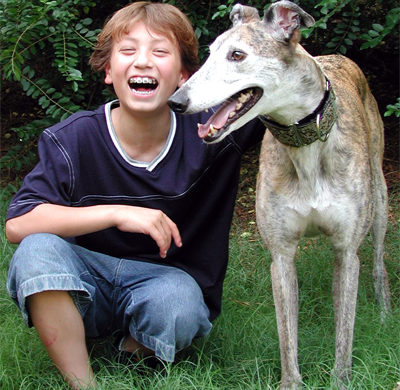 Didn't find your answer?
Contact Us Here