Because MNGR does not turn away any greyhound for any reason, sometimes we receive dogs into our care who are more difficult to place. MNGR still assumes full responsibility for these hounds, even though our costs for them are much, much higher than an adoption fee could ever cover. Some of these dogs will never leave MNGR.
Maybe you can't adopt right now, or can't consider one of these special pups, but are looking for a way to help them. That's why we offer Virtual Adoption!
When you Virtually Adopt one of our long-term or "permanent" fosters, you become that dog's special angel. You help provide food, medical care, and other necessities while they remain in MNGR's care. You also help MNGR live up to our motto "There's Always Room for One More" and never turn away a hound due to age or special medical needs.
To give you an idea of the costs involved in caring for a long-term resident, here are some numbers:
Feed a hound for one month – $30
Feed a hound for one year – $360
Yearly vaccines – $85
Spay / Neuter – $150
Heartworm and Flea / Tick prevention for one year – $150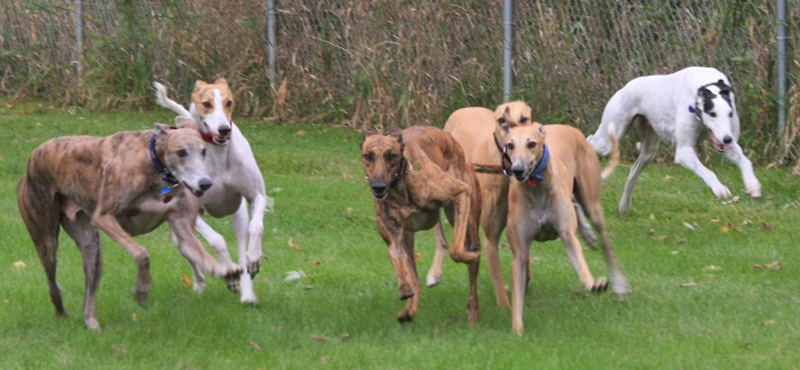 Want to Sponsor a Hound?

If you prefer to sponsor a hound via check, please include which dog you wish to sponsor and your email address for updates.
Please mail to – Minnesota Greyhound Rescue, 9159 Dalton court, Inver Grove Heights, MN, 55076
We will provide periodic updates on how our Virtual Adoption hounds are doing, but feel free to email us to ask about them at any time.  We will send updates out via our email newsletter and our Facebook page.
Our Current Virtual Adoption Hounds
Mr. Peabody a.k.a. Petey
Petey is one of the "young hooligans" here at MNGR, at not even 3 years old. He sustained some nerve damage to his spine while at the farm, and as a result he is incontinent for urine and feces. He also has a rather clumsy gait, but can run with the best of them when he starts playing. At MNGR, he wears doggie diapers that we wash several times a day. However, it would be very difficult for Petey to find another home given his condition, so he will live out his life here at MNGR.
Petey is a wonderful, goofy boy! He loves playing with toys, and is great with our human kids. Everyone here loves him very much. He can be a bit naughty and has chewed up at least 10 muzzles. He also likes to stand with his head between your knees, just hanging around.
Buddy
Buddy is a stunningly gorgeous 7-year-old brindle. He had a hard time before being returned to MNGR in the Spring of 2012. When he arrived here, we could see nothing but fear in his eyes all the time. Unfortunately, he was also a "fear biter" and would nip when startled or scared. We could see the desperate need for stability in his heart, and he has settled into life here. He trusts us now, and rarely snaps. However, we would not feel comfortable placing him in a family with kids or other animals, and he would need a very experienced dog owner with a lot of patience. For now, and perhaps forever, his place is here with us at MNGR.
We love Buddy dearly. He wants to trust and be close to people, and he is working hard to achieve that. He absolutely loves to play with squeaky toys. He follows us around the house looking for pets and kisses, and is always first in line for treats.